Yesterday was an excellent day. A warm windy day, we headed up to near the Wisconsin border to get pumpkins, produce, cider, straw, etc as well as see animals and such. The place is
Von Bergen's
and they have a huge setup there for adults and kids. Not to mention cheap pumpkins and produce. We got nearly 100lbs of pumpkins.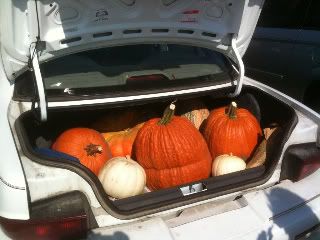 And some particularly neat looking ones at that. We also stopped by a place just down the road for fresh eggs too.
We then went to geocache. Our intended first choice turned out to be a bad one as the park was taken over by "Trail of History." Some sort of reenactment thing. So we were off to another trail right by the border. Then we stopped by a Dog 'n' Suds for root beer, a coney dog and onion rings.
Can't beat a warm, if windy, October day in the country.